RENEWABLE ENERGIES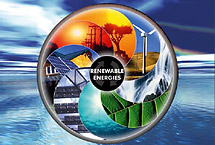 Renewable energies (windpower, hydropower, solar and geothermal energies) have been assuming a crucial role in the production of home and industrial electricity. Besides being inexhaustible, renewable energies respect the environment  as they don't produce greenhouse gases nor waste to be dumped.
Recently European companies have been developing  an outstanding  know-how in the field of green technologies thanks to the several research and innovation activities carried out in close cooperation with universities and research centres.
The green economy grants a series of advantages to the industrial sector, such as the cutbacks in the energy supply costs, the environmental protection and the reduction in air pollution.