METHANE HEATED SHRINK TUNNEL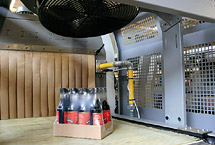 SMILAB engineers have devised a new feeding system for packaging machines which ensures a reduction in operating costs without losing the high quality of the final pack.
This study led to the design of a methane heated shrink tunnel which, in Italy for instance, means a 70% energy saving. The heat required for the shrinking process derives from the combustion of methane instead of being originated by the heating of electrical resistances in the tunnel.